To build or buy software, that is the unavoidable question that underpins so many areas of business technology – from chatbots to websites, apps to newsletters. It's also a question that any growing or evolving business cannot escape when it comes to upgrading their IT infrastructure; particularly as employees are creating and consuming more and more content by the day.
With experience working with hundreds of international brands to develop their IT software offering, we know how important it is to make the right decision in the build or buy corporate software dilemma.
To make that decision, you need to fully understand what "to build or to buy" means in order to weigh up the advantages (and disadvantages) of a build vs buy software analysis.
Check out our handy definitions and a simple decision-making checklist to help you feel confident making your build or buy software decision.
Read next: 2018 Enterprise Digital Transformation Roadmap
What do we mean by to build or buy software?
When upgrading business software, from DAM to DMS and everything in between, there are three main models to choose from. You can build your own system on premise, buy it from a third party, such as one hosted in the cloud, or choose a hybrid mix of both e.g. through a SaaS platform (Software-as-a-Service).
On premise software
Historically, business data and systems would have been built as custom software and hosted locally with physical servers and databases stored within the premises of the business. This has advantages in control and security as all business data is stored in a closed, local environment with no access to public networks or environments.
However, as data strategy becomes smarter and more complex, on-prem databases can become limiting as the capability of local, physical computer power to crunch, process and distribute information back to users around the world at scale is hampered. Retaining local, on-prem data ownership can also become costly as the business scales and can affect performance as the user-base becomes more geographically diverse.
The Cloud
Leveraging cloud based system infrastructure creates huge opportunities for businesses when it comes to deciding when to build or buy software. It allows them to rapidly scale their capability in terms of storage, processing power and performance in managing and distributing information. Calling on computing power from a global network, step-changes the ability to collate, analyze, personalize and adapt communications and experiences closer to the user - and at immense speed and scale, allowing businesses to focus on their core competencies.
The Hybrid
Some enterprises offer hybrid cloud/on-prem solutions e.g. through SaaS. SaaS companies offer web access to information that may still be stored on a company's on-site software. This brings many of the advantages of the cloud such as scalability, processing power, performance, managed security and data strategy while maintaining the bespoke design, configuration and local requirements that may have been built for the specific business needs.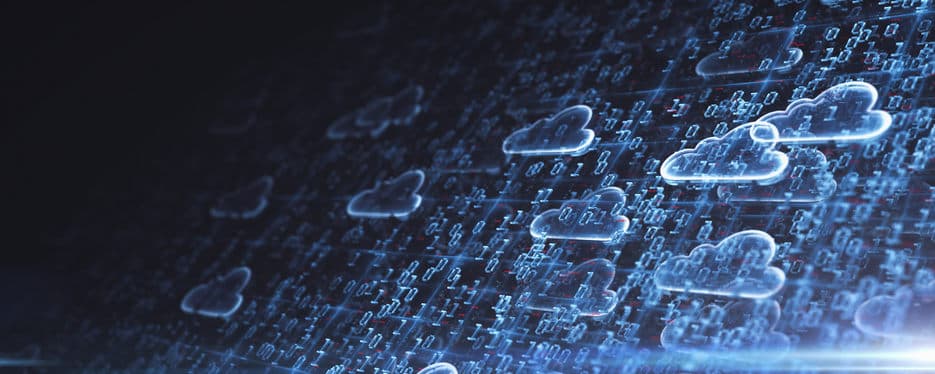 The Build or Buy Software Questions You Need to Ask
You're now clued up on how bespoke, on-premise solutions differ from cloud services and how these can be combined with hybrid solutions. Let's look at the key considerations to help you make the best software decision for your business.
Build or Buy Software Question 1: What is your budget?
Investing in IT infrastructure isn't an area your business can afford to scrimp on. However, costs vary significantly between build vs buy models.
Cloud services are typically priced through a monthly or annual subscription model, meaning entry cost is kept low. Subscription plans are easily scalable so companies only pay for what they need. Being hosted in the cloud, investment in additional hardware is forgone - as is maintenance and server updates.
On-premise IT solutions, on the other hand, carry significantly higher up front costs due to the bespoke build and configuration of the software and potential investment in hardware, maintenance and IT services. Scalability is more complex and costly - especially if developers or IT specialists need to be outsourced.
Unless your business needs are extremely bespoke and require a unique solution, it is likely to be more cost effective to take an existing cloud-based software packages and seek to adapt it to your needs rather than building from the ground up.
Build or Buy Software Question 2: What is your timeline?
Cloud-based IT infrastructure can be implemented pretty much instantly. It's an extremely quick process as all software, templates and services already exist.
Building on-site, customized business software does allow companies to have more control over the implementation of services. They can stagger and test development stages as well as outputs. However, the overall installation time is likely to be considerably longer as a result.
Once the software is deployed, custom software will also require bespoke support & maintenance to monitor and resolve issues which may carry a significant lead time depending on the bandwidth of in-house teams.
Cloud-based solutions are managed services with support & maintenance teams already in place to support customers at scale meaning a faster and more responsive resolution.
Build or Buy Software Question 3: How secure do your services need to be?
One of the main concerns that businesses have when choosing whether to opt for cloud based solutions or build on-site software is application security.
Historically cloud security has come under a lot of scrutiny, with companies feeling uneasy about leaving data in the hands of the vendor or open to the world-wide-web. Cloud security, however, has evolved dramatically in recent years through smart use of encryption, data management & storage and federated, multi-step identity verification that is maintained and updated constantly.
SaaS platforms such as Templafy's have been rigorously tested and structured around the latest data legislation to ensure that no sensitive customer data is stored inappropriately or open to abuse or security risk. This allows the end user to benefit from a GDPR compliant service without needing to develop their own data compliant solutions.
On-premise software may mean all data is totally closed off to the outside world, which feels like a major perk for a lot of businesses. However, it is worth noting that building your own IT infrastructure doesn't mean you are immune to hackers or security breaches. Security levels are always dependent on the enterprise's customized system and whether employees are adhering to security measures. These concerns require constant monitoring, maintenance and evolution to stay on top of ever-changing cyber-security threats.
Build or Buy Software Question 4: How will my employees access data?
Do your employees ever need to create or access information outside your company's walls? Do they ever work remotely - whether from home or before boarding a flight to make a vital change to a document before it's sent?
With cloud based software, documents can be downloaded, edited, managed and distributed on the go from any device. In contrast, documents stored locally on site systems are confined to company computers and drives. This means employees must be within the business building to access their information.
A New Build or Buy Software Approach: How Cloud-Based SaaS Solutions Could be the Answer
SaaS companies can offer businesses the best of both onsite and cloud worlds by integrating a company's bespoke systems - with all its unique brand benefits and features, and boosting them with the power of the cloud.
Take Templafy. As a SaaS platform, Templafy is a fully cloud-based template and digital asset management solution that integrates with both cloud and on-premise document management systems. Here are some of the main benefits its nature as a SaaS solution offers:
Easy access:

As a cloud -based solution that works online and offline, Templafy allows employees to easily create on-brand work wherever they need to, whether it's in the office, commuting or working remotely. This means no VPNs, no need to download applications to your computer and no physical hardware. Employees can access document templates from anywhere at any time.

Security:

Hosted on Microsoft's Azure cloud service, Templafy is GDPR compliant in its management of client and employee data. Keeping your customers assured that their data is in the right hands, our solution is also regularly and rigorously tested to ensure best-in-class data application security and compliance.

Working where employees work:

Templafy's Library provides direct access to business document templates, pre-made slides, images, logos, infographics and icons – all right from where employees already work such as Microsoft applications and Outlook. There's no need to lose time logging in and out of applications.

Instant updates:

If a company needs to make any enterprise-wide changes such as update branding or new legal disclaimers, Templafy automates changes on a global scale instantly. Business templates and digital assets are easily updated and published by administrators across the entire organization in real-time, empowering those responsible for brand and compliance governance to regain control.

Brand compliance:

Even if an employee is working on an outdated document from their desktop, Templafy has a handy BrandChecker which will alert them to any off-brand elements. Gone are the days of old logos, mismatched fonts or rogue imagery, as all brand assets are automatically checked and individuals alerted when they're veering off-brand and brand-compliant alternatives are presented to them within the document they're working in.